STAIB Instruments offers modern and powerful energy analyzers for a wide variety of standard and custom applications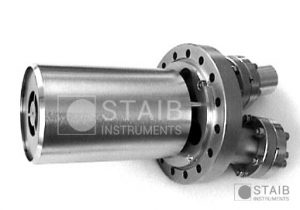 STAIB Instruments has designed and manufactured energy analyzers with outstanding quality and dependability to ensure many years of use. Numerous successful installations, coupled with excellent customer relations, form the basis for on-going developments of the product line to stay current with scientific research needs.
STAIB systems provide excellent return on investment. Reliability, ease of use, and low maintenance requirements ensure long usable life at low cost. All electronic parts have self diagnosis for fast and affordable service.
Useful Methodes
STAIB Instruments Analyzers
| | |
| --- | --- |
| Energy Analyzers with Cylindrical Mirror Geometry | Read introduction |
| ESA 100 | Standard compact single pass Auger, REELS, SAM analyzer |
| ESA 150M | High sensitivity Auger, REELS, SAM micro probe analyzer |
| ESA 200 – 15,000 eV | High energy Auger, REELS, and secondary electron energy analyzer |
| DESA 100 | Highly versatile Auger, XPS, UPS, REELS, SAM, ISS analyzer |
| DESA 150 | High resolution XPS, Auger, UPS, REELS, SAM, ISS analyzer |
| | |
| In situ AugerProbeTM | STAIB's Auger Probe is a uniquely designed in situ, real time analysis tool for monitoring growth and dynamic surface changes during process. See data sheet |
| | |
| Imaging Energy Filters for RHEED, EBSD & Special Applications | |
| RHEA 100 | Imaging RHEED Energy Analyzer for filtering and in situ Reflection Electron Energy Loss Spectroscopy (REELS). |
| FEEDS-2000 | This Field Emission Electron Distribution Spectrometer (FEEDS) is used for determination of the energy distribution of electron emitters or field emission cathodes. |
| EBSD | Electron Backscatter Diffraction can now be upgraded with an Imaging Energy Filter that removes the low energy backscattered electrons for contrast improvement. |
| IEF for PEEM | A newly designed optical system accurately filters a complete PEEM image over the full detector area. |
| | |
| Analyzer for Secondary Electron Yield (SEY) and Secondary Electron Distribution (SED) Studies | A new 180° multi-grid analyzer for quantitative measurement of Secondary Electron Yield (SEY), Secondary Electron Distribution (SED), and Backscattered Electron Yield. See data sheet |