PEEM – Photo Electron Emission Microscope and
IEEM – Ion-induced Electron Emission Microscope
R&D 100 AWARD WINNER 2001
STAIB Instruments offers novel surface analysis instruments with its state-of-the-art Photo Emission Electron Microscope (PEEM) and award winning Ion-induced Electron Emission Microscope (IEEM)
R&D 100 AWARD WINNER 2001
Selected as one of the 100 most technologically significant products of the year.
Multidimensional, high-resolution single-ion nuclear-microscopic analysis technique
For microscopically mapping charge collection and other single-ion induced effects in semiconductor and/or
microelectronic devices
For microscopically mapping mobility and carrier lifetime of semiconductors
Uses inexpensive, mildly focused ion beams or alpha particle sources to investigate the sample
The IEEM was invented by Barney Doyle and George Viskelety (both SANDIA) and Robert Weller (Vanderbilt University). SANDIA and STAIB Instruments jointly won one of the 2001 R&D100 awards for the Ion Electron Emission Microscope. Berthold Senftinger, researcher at STAIB Instruments, was also included in the award.
PEEM Control provides
computer control
for the PEEM instrumentation.
PEEM Vision is a powerful data acquisition tool. Both image processing and real time analysis can be performed. All routines are simply selected through pull-down menus. A large number of data reduction routines are selectable. Additional hardware control modules are available, as for phase locked epitaxy, shutter controls, laser pulse triggering.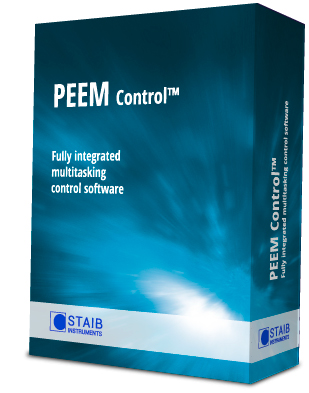 PEEM Control™ is the fully integrated multitasking control software for WindowsTM XP, WindowsTM 7, WindowsTM 10
PEEM Vision™ is the fully integrated multitasking data acquisition software for WindowsTM XP, WindowsTM 7, WindowsTM 10